Take advantage of artificial intelligence to remove invalid addresses from your email lists, identify spam domains, prevent bounces, and improve deliverability.
How does the service work?
We offer 2 types of service to detect invalid, spam or non-operational mailboxes :
Online validation API

that returns a message in real time when to the user inputs the email.
Bulk Validation of a list in a csv file that returns filtered sub-lists.
Get 1000 validations
with your free account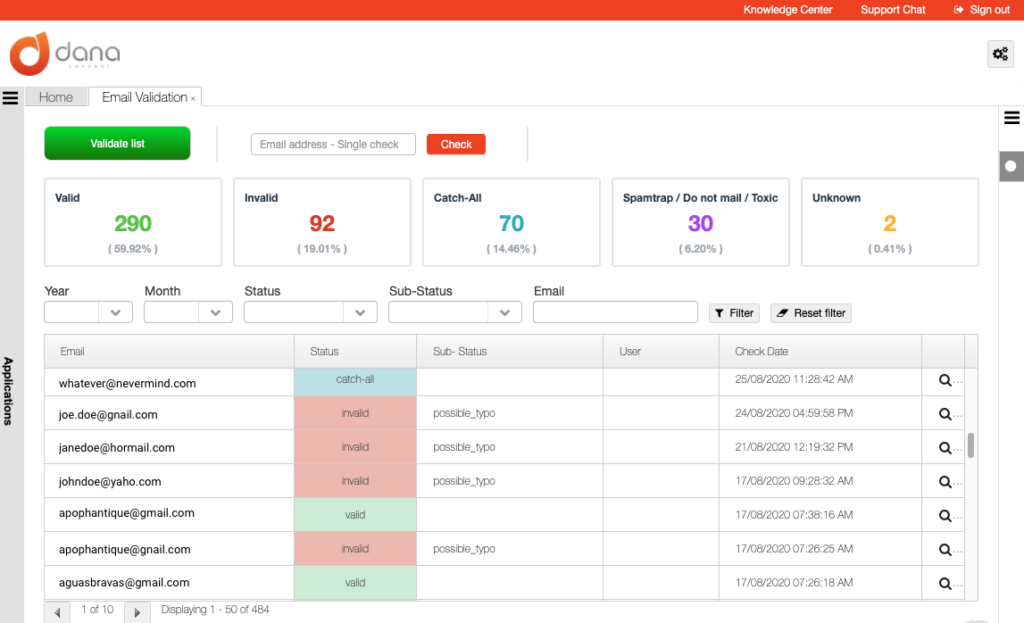 Email bounce validator
Remove invalid email addresses from the list to prevent bouncing and improve inbox deliverability metrics with guaranteed accuracy.
Cleaning up spam and abuse traps
Eliminate spam traps and emails that don't belong to real people, that tarnish your domain's reputation. The service prevents Internet providers (ISPs) from labeling you as a spammer and adding you to blacklists.
Role based and toxic address detection
Identify the recommended addresses not to send as they are based on roles, companies, or people to whom you want to avoid sending emails.
Correction of typing and syntax errors
Did you mean Gmail? The API notifies the user in real-time if the domain is wrong, but it is similar to a known domain, and an example is given that could be what the user really wanted to type.
Cleaning disposable emails and free accounts
Identify and avoid sending to domains are recognized as free accounts that are temporary.
Identification of catch-all accounts
Detects addresses that return as valid whether they are valid or not. The term Catch-all means that the email server receives and processes all the addresses within a domain name.