Portfolio Renewals Summary for Brokers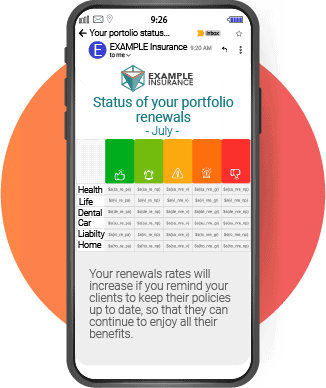 What is the Portfolio Renewals Summary for Brokers?
The Portfolio Renewals Summary for Brokers is a communication via email that is sent periodically to notify the advisor, collaborator or promoter of the status of their client portfolio with the data and dynamic information that is generated in an automated and personalized way for each collaborator.
Objectives:
Optimize communication between the intermediary partner, the insurer and the client to ensure policy renewal.
Offer the collaborator detailed information on their renewed, paid, current, expired and grace period policies.
Improve the rate of renewals and pending payments per collaborator.
Solution:
Communication with automatically generated content to notify collaborators of the status of their portfolio of pending renewals for a specified period.
Possibilities Options:
Integration and adaptation to your institution's internal processes.
Corporate image, colors, logo of the institution in communications and webforms.
The digital channel for delivery can be tailored to specific needs.
Implementation timeframe:
Cross channel strategy:
E-mail
SMS as alternative channel