DANA DMARC Email Security
DMARC report viewer for email security can help in:
Preventing unauthorized use of your email domain.
Protecting your customers from spam, fraud, and phishing.
Improving the ability to deliver your contact lists, thus increasing the opening percentage of your marketing campaigns.
It strengthens the governance of your communications by monitoring all servers that send emails on behalf of your domain.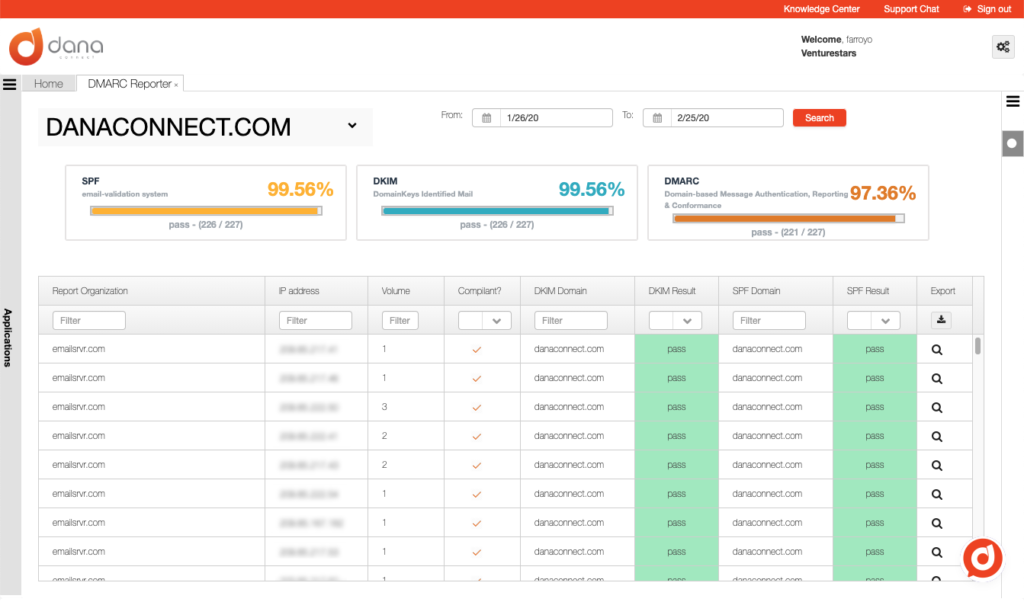 DANAconnect has a loose to strict progressive DMARC implementation methodology
Any company that handles sensitive customer information should have a strict DMARC policy, but to get there, you have to go through different stages, until total governance over outgoing communications is achieved.
Implement DMARC in three quick stages:
SPF and DKIM configuration:
Take the first step and analyze your SPF record with this tool:
DMARC in monitoring mode:
The list of servers legitimately authorized by your organization is established, thus identifying potential third party attacks.
SPF and DMARC in strict mode:
DMARC mode is changed to strict so that emails sent by spammers are entirely rejected.
Quick implementation and one day configuration
It may take only a couple of days for your company to get a complete view of who is sending emails in your name and probably, what you will discover will surprise you.
Easy-to-view daily reports
The tool provides the flexibility to filter DMARC daily reports by date ranges, and by many other variables, allowing you to quickly identify and study the servers that are sending emails on behalf of your domain.
For DANAconnect it is important to provide security tools that guarantee the deliverability and governance of communications.
DMARC is the most effective way to avoid phishing emails.
DMARC has actual economic benefits
DMARC generates millions in cost savings and has resulted in a significant risk reduction for companies. In 2018, the Global Cyber Alliance investigated 1046 organizations that implemented DMARC at the "reject" or "quarantine" policy level with benefits exceeding $ 19 million.
The worldwide support for DMARC
is growing
In June 2016, United Kingdom ordered all government departments to adopt DMARC. The European Union Computer Emergency Response Team also made a recommendation for the use of DMARC. In October 2017, U.S. Department of Homeland Security issued the directive that requires the adoption of DMARC in federal civil domains.