Use Collections Automations with cross channel to maximize the chances of receiving the payments in the shortest possible time
Optimize the delivery of invoices, account statements, payment tracking, and the adoption of programmed debits using Collections Automations follow up that improve the efficiency, effectiveness, and costs of your collections.
Automatically track payments accurately by combining different channels

Remind your customer the payment date with an email a few days before the due date and the invoice expiration date, if it is still marked as unpaid in the database, an SMS is automatically sent, reminding the debt and including an immediate option for online payment.
Progressively scale to the most effective channels:
Ultimately, if the customer is overdue for more than a certain number of days, a recurrent automatic call can be made until the bill is paid for an optimized debt recovery strategy.

Collections Automations uses the less costly channel
Save using sequences in order of cost:
Send payment notifications through multiple channels, with the possibility to start with the least expensive channel and progressively escalate to more costly channels.
Identify the most effective channel for each client:
Segment customers in the most effective way and send personalized notifications via SMS, email or custom push notifications for each customer segment.
Harness the power of bi-directional communications
Give your customers the power to organize their finances with self-services that enable them to agree on new scheduled payments and the possibility of choosing different alternatives, calendars, and payment methods.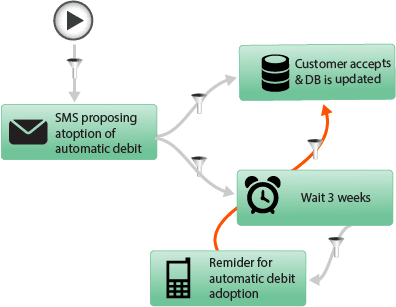 Open the possibilities to instant payment
Add a "Pay now" button to your emails and SMS. Request instant payment of all unpaid bills.
Reintentos inteligentes para hacer frente a los pagos pendientes
Elija qué acciones del usuario actualizan la base de datos y desencadenan el siguiente paso dentro de los procesos de seguimiento de pagos automáticos, nuevos cargos, pagos fallidos y más.
Benefits of collecting through rich SMS
It allows sending the invoice to the client directly to his cell phone and the client can consult at any time the information about amounts and details of the invoice.
It allows to send a payment page that is accessed directly from the SMS which optimizes the immediate payment.
It allows sending digital documents to customers who do not use a computer.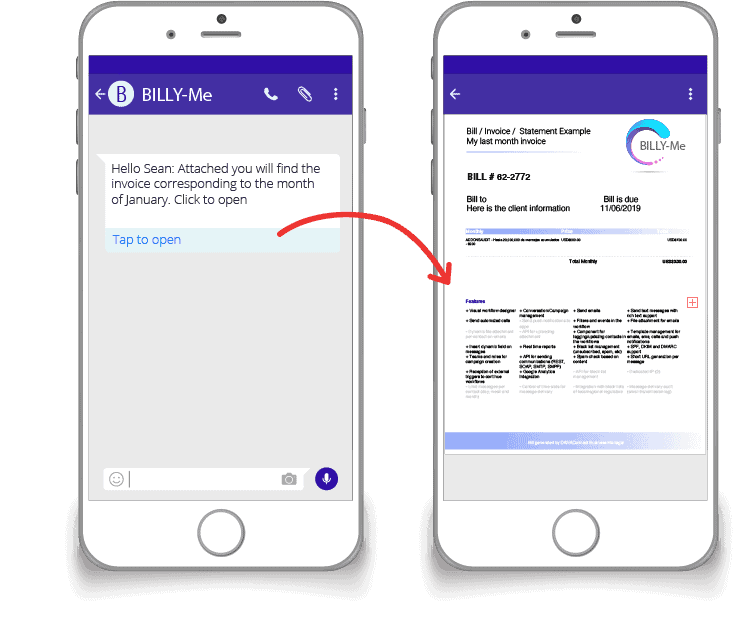 DANAConnect has helped its clients defend themselves in litigation
Since documents delivery with the platform meets the authentication standards to be admissible in the courts.
Present evidence in native format
Present evidence that the communications were actually transmitted and quickly resolve cases in which customers argue that they did not receive the document (account statements, disclaimers, tax documents, etc.).
Innovations for compliance
DANAConnect offers features to adapt your automations to your country's regulations:
Blacklist management by channel and type of communication
Integration with regulatory bodies (Lists do not send)
Time slot control for message delivery
Control of maximum communications per contact
View the complete features