Digital Operations as a Service
This managed service aims to progressively digitize operations, process by process, to improve customer acquisition, retention and profitability.
We have helped hundreds of companies solve operational problems
Including the reduction of unnecessary work volumes, manual tasks, bottlenecks, reduction of human resource costs and data silos, among others. As a result of our extensive experience in the financial industry, we can quickly move from prototype to full-scale implementation.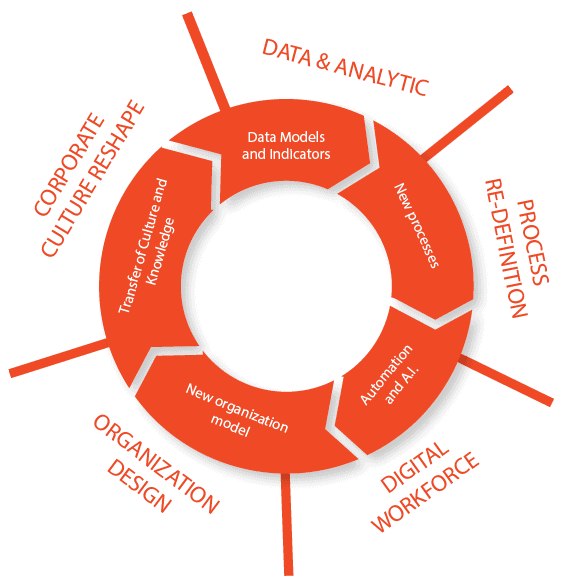 To enable more effective process, we start by having the data well organized. Commercial and operational processes are re-designed and automated, taking advantage of Artificial Intelligence. Results monitoring tools are installed. All this with a vision of the future that also includes the transfer of knowledge, so that the organization can eventually operate independently.
Generation of a data model and indicators
Design of commercial and operational processes in their digital version
Creation of a digital workforce with Automation and Artificial Intelligence
Implementation of measurement tools of the new organization
Creation of the new model of human talent required and transfer of knowledge
A Methodology for Sustainability
DANAconnect offers the implementation of automation solutions that, through case studies, we have proven to work for your industry and adapt them to your specific needs.
To get started, the first step is to collect historical data from your customers. This is followed by an evaluation using experience measurement automations, which give your customers the final word on the current state of each process.
As a next step, the priority order of the processes to be transformed is defined. Once the priority processes have been identified, each use case is considered and progressively adapted to turn it into an optimized digital process. We take a very agile approach to implementing the transformation and our goal is that each process can be designed and operational within a month.
Likewise, the senior management of your organization is offered easy online access to a tool for monitoring the results of the processes that were digitized.
Finally, in a progressive and scheduled manner, the team that was assigned to your organization and trained by DANAconnect takes control of the operation of each process so that they can make changes and improvements in the future. For the implementation of the service, we assign your company a multidisciplinary digital operations team that covers everything from strategy to automation, including project management. Your organization only needs to assign a Project Owner who interacts with our team.
Your new DANAconnect-managed team would consist of:
Business Strategy Leader

Project Manager

Senior Developers

Data Specialist

Automation Specialists

Content editors
Graphic Designers
Unlimited Digital Workforce

♾️

 
The automation catalog is the guide for Digital Operations as a Service
More than 500 industry case studies formed the basis for the development of the Customer Experience automation solutions portfolio. This new managed service offers the implementation of the solutions found in this Automation Catalog. Discover there the implementation of solutions that we can offer you.