Collection managers are faced with rising delinquencies as costs continue to become burdens. Here are six strategies that are easy to apply to improve debt collection recovery rates and streamline operations.
As loss rates rise, collections departments suddenly find themselves without the right tools and staff to manage their at-risk accounts effectively. All creditors can benefit from the new approaches discussed here, increasing revenues and reducing costs. Listed below are 6 easy steps that will ensure a better collection strategy:
1. Being able to actually contact your clients:
There is a strong correlation between delinquency rates and the ability of companies to contact their clients. More specifically, companies with poor accounting tend to have high delinquency rates because the invoices don't arrive. Then there is no contact to call and no way to collect.
One of the most potent proofs that contactability is the key to collections is the fact that 80% of delinquent customers would pay when contacted if their information is available.
The three main reasons why companies have poor contact with their customers are:
Emails and telephones are typed by an operator who receives customer information by phone. Human error is the main reason for poor-quality contact lists.
The contact information is not from the end customer. Sometimes agents or brokers put in their own contact or "dummy" information. This point is easy to detect if the contact list has emails or telephone numbers repeated more than 3 times or simply by email validation to view the false emails.
Clients do not update their data spontaneously. It is not natural for customers to update their information on their own. As a result, emails and phones are not updated if the customer isn't pushed to do so.
Fortunately, lack of contactability is easy to detect, and there are simple solutions to keep contact lists up to date. When communication fails, automated data quality processes can be implemented. Similarly, the email lists can be regularly validated and cleaned to determine which addresses are outdated.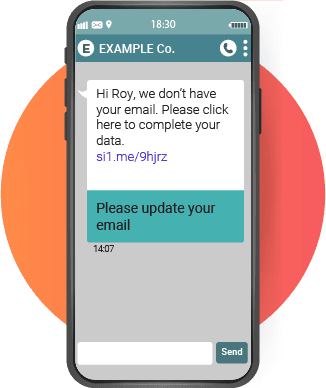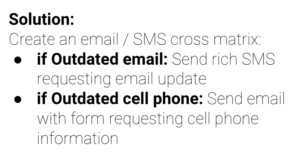 2. Send invoices and payment reminders via alternative channels
More than 80% of people do not answer phone calls from strangers, and 82% don't check their email daily. Nonetheless, 90% of people carry a cell phone and check it over 50 times a day.
Meanwhile, SMS represents a considerable cost saving compared to calls when customers are already delinquent. This is especially the case when we consider automation reduces the cost of the call itself and eliminates the costs of man-hours for the telephone operator and infrastructure.
Using enriched SMS, it is possible to:
Send the bill or statement straight to the customer's cell phone, so they can see the amount and details at any time.
Access a payment page directly by SMS, which optimizes immediate payment.
Offer payment plans with web applications
Send reminders with payment buttons promptly, before and after the due date.

3. Add payment buttons everywhere
Virtually all digital and communication channels can be enhanced with payment buttons. In most cases, payment buttons are simply included in email communications. Increasingly, creditors use digital channels to connect with younger customers, who are usually more sensitive to mobile apps, chats, and social media sites.
SMS provides easy access to a variety of payment methods. Furthermore, payment methods can also be incorporated into less traditional channels such as Facebook Messenger and WhatsApp, where navigation buttons allow easy access.
4. Add bidirectionality and self-service.
Simply adding a few buttons to communications, regardless of the channel, allows us to profile and understand the reasons for non-payment. Early identification of the reasons for these clients is necessary to offer them a variety of negotiation options that prevent them from going into uncollectible accounts.
Collections departments can also implement virtual assistant channels, allowing creditors to respond to customer inquiries efficiently through asynchronous automated flows and real-time chatbots. Automated tools can also perform transactions and collect payment information, freeing up time and increasing productivity for collectors. Using two-way channels also improves customer experience since they allow easier access to documents and data.

5. Offer payment plans and custom options
Rising delinquency rates are closely associated with the growing proportion of customers who cannot pay the total amount at once and may end up defaulting. Therefore, creditors must identify these customers early to offer them diverse payment options.
Many creditors lower interest rates or extend the due date on delinquent debt to make payments affordable. The most efficient collection operations offer clients the opportunity to create their own payment plans. This allows clients to establish reasonable terms and minimize their time in arrears.
6. Follow up, then follow up… and repeat.
Lack of follow-through is often cited as the reason for business failure, as many have heard. This is especially true for collections.
Customers often set aside the bill since there is still "plenty of time to pay" when they receive it, and they don't set a reminder. Instead, they expect us to inform them as the due date approaches.
To be effective, payments need to be claimed the same day the invoice is due. As time progresses, sending reminders is also necessary to escalate the urgency in communication.
Cross-channel automation ensures that follow-ups are channel-appropriate, effective, and timely since reminders must be sent only if an invoice is not paid. On the due date, if the invoice is marked as unpaid in the database, a text message reminder is automatically sent, including the option to pay immediately online. As a last resort, if the customer is in arrears for a significant period of time, an automated call can be made until the invoice is paid.

Some other less simple but equally possible actions to take for a better debt collection recovery rates
Delinquency risk segmentation is generally applied during the first weeks of delinquency to identify the clients to whom a (human) agent will be assigned. After that point, no further segmentation is typically implemented. Regardless, the contact is simply added to the calling list, and the agents adopt negotiation types without completing any prior evaluation. This inadequacy of sophistication is compounded by other challenges, such as consumer protection regulations.
By developing advanced behavioral models and artificial intelligence, many creditors have been able to dynamically segment customers who are most likely to proceed directly to collections.
An example of dynamic segmentation is the use of data such as income, credit scores, and net worth to help determine settlement potential in an automated manner.
In this way, it is possible to lower the average negotiation rates and present more realistic options for delinquent clients, also taking advantage of the flexibility offered by the lower cost of operating in an automated manner with a smaller collection front.
In conclusion, improving your account receivable strategy may be easier than you thought.
Automated collection processes are beneficial from both a preventive and defensive standpoint because they reduce manual work that often results in human error.
Automation not only improves the collections rate, but the cost efficiency of automation makes the entire process more profitable.
Even though many collection decision-making processes still require human intervention, companies that use automation to improve their debt recovery, by gaining resources are able to better serve their consumers.
Each company's leadership is responsible for determining where automation and artificial intelligence should be used to improve preventive and defensive strategies for the best results.