Renewal is an ideal time to cross-sell, up-sell and sometimes even down-sell. It is also a time to gather feedback from clients and strengthen relationships with them.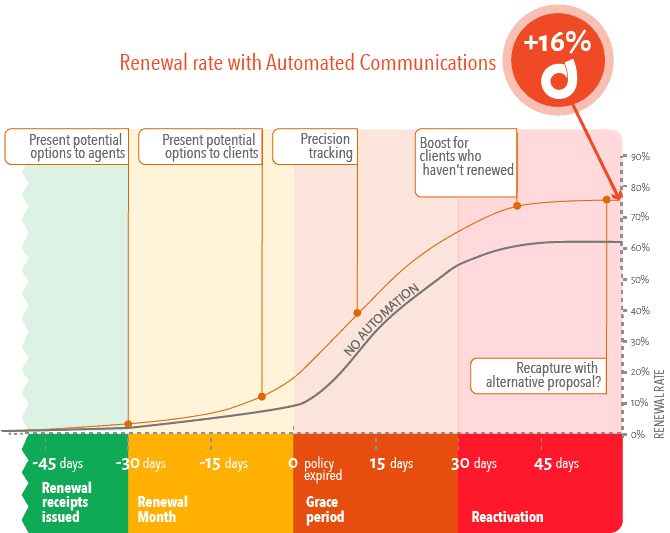 If your renewal process isn't well-crafted, you could lose a lot of business. Unless you involve enough customer interaction, time your renewals appropriately, and make it really easy, you may lose customers instead of gaining business.
In contrast, implementing a renewal program that consistently increases your rates by 5% each year can double your sales profit in five years.1
Here we offer you some guidelines for improving your renewal rates that starts at onboarding:
Schedule CX measuring throughout the year
The Customer Effort Survey should be set up 30 days after the onboarding process is complete. The customer may also be contacted in six months' time, six months before the renewal time, to survey their satisfaction with the product. We highly recommend using CSAT methodology at this moment. Always allow the customer to suggest improvements and vent.

Don't be a stranger:
It is important to keep in touch with your customers throughout the year, not just at renewal time. Set up a drip content automation with valuable information and show the customer you are not only there to sell them. Build your brand and position your company as the authority. Always keep in touch.
Reward loyal customers:
Keeping customers loyal to your business begins with making them feel appreciated. At the moment of renewal, consider automation for sending your long-term clients a little show of appreciation with a loyalty discount if they haven't renewed a week after receiving the renewal proposal.
Downselling is as important as upselling:
Some customers can be retained with the same product, while others can be upsold. However, sometimes they do not have the money or do not see the benefit of spending more, so downselling is the key. If they haven't renewed their policy 15 days before expiration, send three proposals for cross-selling, upselling, and downselling.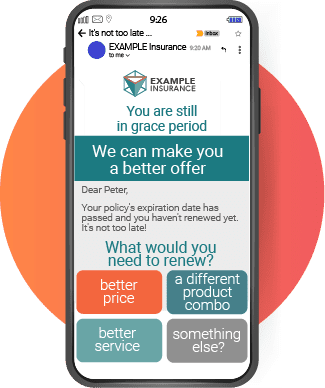 Support your salesforce
Automate the delivery of information to the agents regarding client policy renewals, but also other milestones such as claims experiences and birthdays.
Download DANAconnect's Tiny Guide for Agent Retention

Use the correct channels
Younger people have grown up in a world where they expect to be able to shop online for insurance policies that meet their needs, while older people still expect a high level of personalized service. You can automate the process of funneling conversations to the appropriate channels.
Simplify payment
You may lose customers if your renewal process is too complicated or time-consuming. You can make things easier for your customers by offering automatic renewals and payments. With online payment options, it is even easier for customers to manage their insurance renewals.