While push notifications are one of the best and cheapest ways to engage with your customers, they are useless if they are not installed. Since the early 2000s, marketers have been striving to overcome push notification adoption barriers. 
Today, Google and Apple wallets lower the barriers of Push in a way that makes it a whole new channel. There is no need to install the app to receive push notifications as the wallet app comes with both Android and iOS operating systems. Since no app is required, customers do not have to sign up.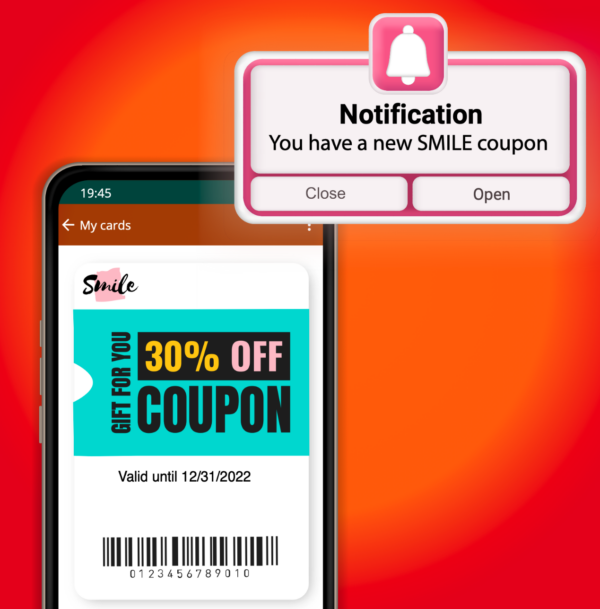 Push notifications are often used to re-engage customers, send emergency alerts, or offer specific offers. In addition to re-engaging users, push notifications can also be used to communicate about products or promotions
Push notifications are highly recommended when you have a large active customer base.
Why are push notifications so effective?
Push notifications are usually sent when something important happens. Unlike email or social media, they can't just be ignored as they appear on your phone's lock screen even when you're not using it. It will be difficult to ignore the message as it will continue to "bother" until it is opened. Push notifications have a high conversion rate. 
If you set them up correctly, they are a highly effective way to communicate with customers: they are fast, affordable, and you only have to worry about delivery; And delivery rate is often around 90%!
What are push notifications?
A push notification is a small personalized message that appears on the home screen of the mobile device without the user having to search for it. They are usually used for alerts and account information, but sometimes also to provide important information about products, services or promotions. Push notifications are also a powerful marketing tool.
What are ewallet cards?
Google and Apple Wallet store cards with rewards points, coupons, boarding passes, event tickets, membership information and more, all in one convenient location inside your mobile phone. These ewallet cards can include useful information such as account balances, discount codes, membership ID, coupon expiration date, or boarding information for a flight. Ewallet cards can be synced from the phone or directly from the computer. You can also export passes to the phone, to have them during shopping or for travel. 
When the customer is ready to use a card, they simply show the QR code to scan or show the barcode at the store to earn loyalty points. They could also show their membership to access the club, job offices or university campus.

Push notifications for mobile wallet
Mobile wallet push notifications in Google Wallet and Apple Wallet appear as a pop up message on the device's lock screen and also as a new field on the back of the card within the wallet.  On the lock screen, it appears as a small icon that can be tapped to open the full app and view the card. On the back of the card, a notification alert icon appears in the upper right corner. 
What is mobile wallet marketing? 
Ewallet push notifications are a form of mobile marketing that can be used to collect data and send offers directly to your customers' phones. For example, you can send a coupon or special offer to their phones when they're near one of your locations. In mobile wallet marketing, customers are engaged through personalized loyalty cards, membership cards, and tickets. Because no app is required, customers don't have to sign up. 
Mobile wallets are passive and non-intrusive. Mobile wallet offers are usually upgrades, coupons, or a unique discount code, but can also include information about new products, services, or other promotions.

What are the types of push notifications?
There are three main types of push notifications: 
ewallet push notifications (does not require app installation)

Web browser push notifications (works for both mobile and desktop devices 

app
Location-triggered push notifications 
Ewallet cards that have been stored in the Apple or Google wallet that include geolocation features can trigger messages when the phone's GPS detects that the customer is in a specific location.
Some interesting examples of geolocation are credit card loyalty programs, which remind users that they can use VIP lounges when they arrive at the airport. In addition, some cards feature geolocation that enables appointment promotions with account executives when clients are close to a bank branch.

Uttermost personalization 
Personalized mobile cards featuring the customer's name and account information offer the highest level of personalization. A high level of customer satisfaction and retention is achieved through this type of personalization.
Conclusions:
Having lowered the barriers to adoption, push notifications are now more effective than ever. The wallet app for Google and Apple wallets is available on both Android and iOS operating systems, so there is no need to install an app to receive push notifications. Since no app is required, customers do not have to sign up. 
Customer satisfaction and retention rates are high with ewallets because of the level of personalization they provide.
As a result, financial institutions, and organizations in general, have a completely new channel to experiment and innovate in customer communications, marketing and transactional alerts. 
You might also be interested in:
Loyalty and Reward Points Card for eWallet
Digital Insurance card eWallet