Process automation is a valuable tool for any company that seeks to improve its productivity and achieve optimal results. In the field of renewals in insurance, automation plays an important role in the effectiveness of the process. Automation allows companies to reduce costs, streamline their operations and improve their profitability. In this article we will discuss how smart automation-based strategies can be used to gain greater benefits when handling collections and renewals in insurance.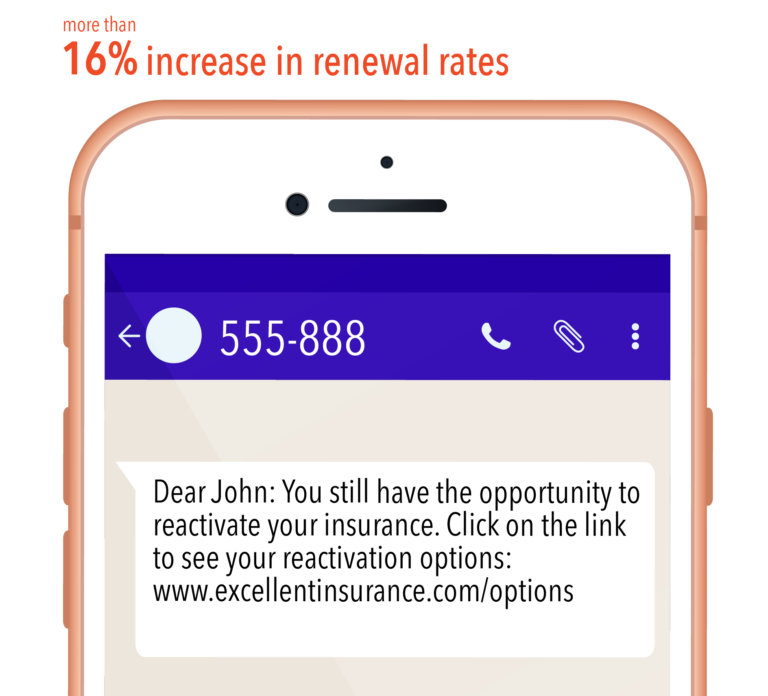 Effects of inefficiency in the collection process of renewals in insurance
Decrease in profitability:

The inefficient collection process generates an increase in costs for the insurance, which reduces its profitability. This can lead to serious financial problems if corrective measures are not taken.

Loss of Lead:

Potential customers may simply forget to pay for the renewal, lose interest in your products, and switch to other providers that offer an easier and simpler experience.

Increased volumes in customer service:

Inefficient collections, billing, and follow-up lead to more inquiries from people trying to save their policies during the grace period.

Prevents businesses growth likely to produce significant profits

: Delays in the collection process mean that the people in charge do not have time to explore new negotiation opportunities with possible potential clients, which ends up preventing the obtaining of greater profits and improvements in the company's net profit.
The need for preventive collections of renewals in insurance
Insurers require tight control over their income, as if there is not enough cash flow to cover claims, the company may find itself in financially difficult situations.
Premium payments are essential for insurers to be able to provide the benefits that policyholders receive. Yet billions of dollars are lost every year because policyholders don't pay their premiums on time or at all. This is because insurers don't have an effective way to collect and follow-up on premiums.
One of the main ways to promote the collection of premiums is through the implementation of preventive collections. This involves the use of technological tools and collection strategies, such as automating policyholder reminders, establishing rigorous collection policies, and offering flexible payment options. These strategies aim to minimize premium payment delays and improve collection efficiency.
Included in this strategy are reminders by email or instant messaging before the deadline; automated sending of invoices; detailed analysis on the average times between Due/payment; periodic verification (at least quarterly) of the insured's personal data, new telephone numbers, email addresses, etc.
Strategies to improve the effectiveness of renewals in Insurance
An automated insurance collection and renewal strategy can ensure success by making processes faster, more efficient, and more accurate. Automation eliminates the need to perform each step manually, helping to scale outreach and avoid regulatory delays or non-compliance.
Below we list a series of elements that together can create a strategy that improves collections and policy renewals, as well as avoiding cancellations:
Monthly email of the portfolio status to the advisors
Insurance agents receive a monthly email with the status of their portfolio, allowing them to access a report with detailed data on the due dates and status of al the accounts in their portfolio. This tool also offers the opportunity to communicate and remind advisors of a clear strategy for following up with late paying clients.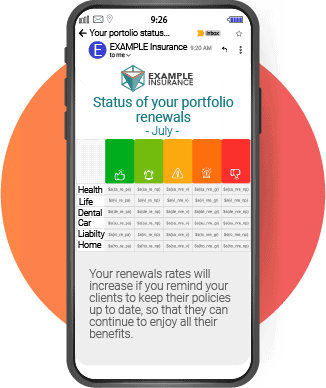 Automated sending of renewal notifications and invoices via omnichannel
Using omnichannel for sending automated renewal notifications and billing is one way to ensure that customers receive their invoices, even when the email does not reach its destination. This method includes sending invoices by enriched SMS, as well as the possibility of forwarding and alerting through alternative channels such as SMS or WhatsApp if the person has not opened the email with the invoice.

Auditable historical records storage
This historical storage allows the company to keep a detailed record of its collection process, including all communications between it and the client regarding policy renewal notices to ensure compliance with applicable laws and regulations.
Notifications with automated precision follow-up
Implement an automated tracking system to accurately notify customers about late payments. These notifications include emails and text messages that provide a list of actions to take depending on the level of delay including payment methods, both online and offline. In addition, key contact details for each client should be included.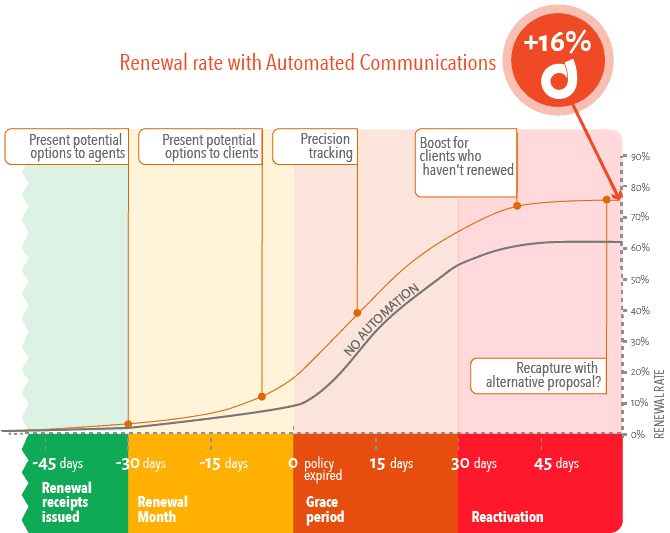 Rules-based management of unpaid or/and unreceived cases
Automated payment management based on intelligent rules enables automatic case management without manual intervention. This type of automation also has the ability to identify due dates and take corrective action before complete non-compliance occurs. In this way, a more efficient and effective payment administration process is achieved, for the customer and in face of the regulation entities.

Integrations between systems
Seamless integrations between systems allow to simplify the digital exchange of data related to due payments, issuance, etc. This integration is essential to establish payment rescheduling processes for customers with late payments. Options for these customers could include installment payments, grace periods, and rebate programs for those with good payment history. These programs could consist of discounts on premiums, and premium customer experiences.
Use of API and Webhooks to connect data sources and destinations
The use of API and Webhooks to integrate data sources and destinations has become a necessity for collection automation, allowing great flexibility in extracting data from different sources and providing real-time information on the status of payments and for risk analysis. Moreover, state-of-the-art payment solutions are incorporated to meet the needs of each client.

Contact data quality determines renewals in insurance
A good quality of customer contact data is a fundamental task to improve the deliverability of invoices and communications. It is recommended to create periodic data update campaigns in order to achieve this. A simple and effective technique is to cross-channel to obtain updated contact information. For example, send by email a request with a form to obtain the telephone data, and vice versa, send by SMS to obtain the updated email.

Dashboards showing real-time progress
Dashboards that show the progress of collections in real-time allow companies to make informed decisions to improve their financial performance even before the end of each period. These include reports of total collections, payments made, the number of open claims, and pending collection figures to identify trends related to renewals, policy cancellations, and general collection. This information is key to detecting possible problems in time and, thus, taking the necessary corrective measures to improve the financial situation of the company.
Benefits of automating collections for renewals in insurance
Establish constant contact with customers and strengthen the relationship with them.

Set up a notification system for customers to receive reminders before their policy expires.

Improves the efficiency of the collection process, reducing the time and effort of employees.

It provides a complete solution for the collection process, including sending invoices, reminders, means of payment and monitoring.

Reduces the risk of financial problems associated with non-payment of premiums.

Improve customer service by providing an agile and efficient collection process.

Reduce payment processing costs and optimize company resources.

Identifies opportunities for improvement in the collection process.

Offer customers a variety of payment options to suit their needs.

Establishes a good brand image for the company, reinforcing customer confidence in the collection process.
Final summary 
The effectiveness of preventive collections is crucial for insurance companies and can be improved by implementing various techniques. First, a thorough analysis must be done to identify the source of the late payment and determine the appropriate collection strategy. This means understanding the reasons why a client has not paid their premium and assessing whether there are external or internal factors influencing the process. In addition, it is important to keep an up-to-date record of all past-due accounts in order to accurately follow up on them. It is also vital to build customer relationships in order to prevent future problems early. It is important to use advanced technological tools such as automated case management systems or intelligent digital platforms to help simplify the process and reduce associated operational costs.
Ultimately, improving the effectiveness of preventive collections will help insurers collect more premiums, which in turn will allow them to deliver benefits to policyholders in the most timely and efficient manner.