Due to increasingly high expectations from customers and the ongoing growth of digital native companies, banks and insurers are rapidly introducing advanced solutions that continue to enhance the customer experience and keep up while still trying to figure out what to do with their legacy systems.
In its "Financial Services Technology 2020 and Beyond: Embracing Disruption" report PricewaterhouseCoopers (PwC) highlights four areas that organizations need to focus on as they adapt to an increasingly digital environment:
4 things enterprises need to focus on to embrace disruptive technologies:
Simplifying their legacy systems

Updating their information-technology (IT) operating models

Using software-as-a-service (SaaS) beyond the cloud

And adopting robotics and artificial intelligence (AI)
A growing number of new, innovative fin-tech start-up businesses appear to expose legacy infrastructure as unable, inefficient, and inflexible to meet the demands of today and anticipate tomorrow's trends.
Moreover, most banks' and insurance companies' legacy systems won't be able to support this consistently evolving environment and find that their legacy systems lack the technology for even connecting to the Internet safely. 
[/vc_column_text]
"Legacy systems are one of the greatest challenges they face (banks) because they impair their ability to operate efficiently and adapt to the future". Severino Mastracci, Operations Manager @ DANAconnect
The role of Enterprise Architects in business sustainability
IT management is facing its most challenging and business-focused period in history. With the democratization of information technologies, most critical departments in some enterprise-level organizations can manage a bigger IT budget than the IT department itself, buying their own SaaS in the cloud and apps that are disconnected from each other. 
Although aligning organizational transformation to the business strategy should be a top priority for both IT and business leaders, it is more challenging than ever before.
Nowadays, individual departments can implement their technologies, but they cannot steer, integrate, or align the company as a whole. As a result, they cannot fully achieve their strategy's objectives. A modern enterprise needs, above all else, IT leaders who can help realize its business strategy, no matter who purchases the solutions.  
Enterprise Architects and Business Architecture roles have come to play a fundamental role in business organizations and planning for the future, sustainability and growth. Customer service excellence, efficiency, and revenue-generating capacity are all characteristics of organizations that excel in those fields.
Is it possible to move away from legacy systems without a lot of investment?
For banks to replace their entire legacy banking systems is expensive and complex. The answer may not necessarily be to get rid of them immediately.
There are some ways to move away from legacy mainframe platforms towards cloud-based technologies without spending a lot of money on infrastructure.
Implementing the right strategy with the right tools can make the transition from legacy mainframes to cloud services easier and help companies realize and the cloud's transformative power. 
Focusing on value creation that improves business processes and enables creative advantages, rather than simply replacing technology. 
In DANAconnect, as part of our day-to-day work, with our customers in the financial ecosystem, we regularly get to see amazing creative solutions to these types of problems.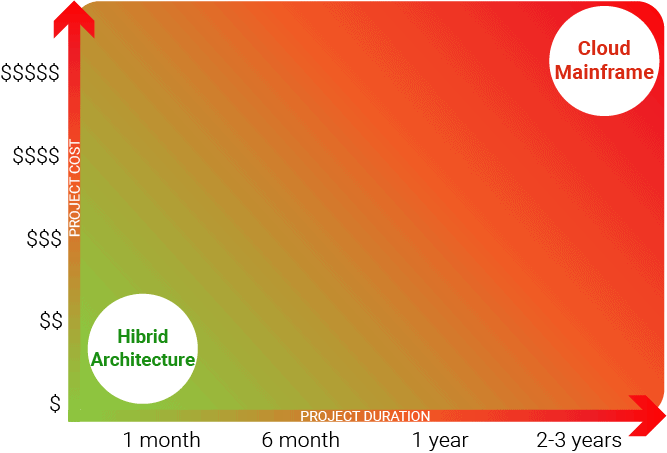 Migration without Friction
Updating legacy equipment can be a challenge for organizations that worry about how it will affect daily operations. Resource requirements for managing a migration can also be a concern.
The most efficient and cost-effective way to future-proof legacy equipment is through a mixed deployment. Here we offer you some pointers on how to start.
Architecture model for sending A2P email from your legacy / no Internet able app
There may be legacy systems in your company that have gotten outdated because they lack secure protocols to connect to the Internet, which creates a huge security risk. In the modern hybrid cloud architecture, the mainframe still has plenty of room.
Beyond that, the organization simply can't afford to stop operations no matter the reasons. If you still need to output bulk or transactional email from these legacy applications, taking advantage of these simple but creative migration options results in a shorter project duration for a faster return on investment. 
Diagram 1, the "Proxy Option" shows how you can use a proxy server to intermediate between the cloud and your legacy systems to send applications to person bulk or transactional emails (A2P email)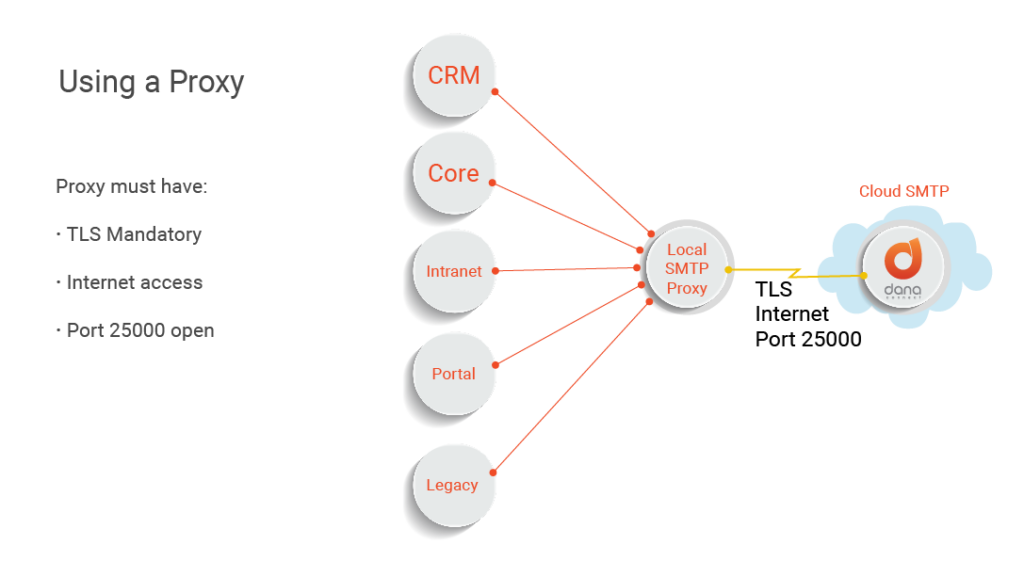 The 2 diagram below shows how the systems that can upgrade to TLS 1.2 can connect directly to the cloud while the systems that lack TLS protocols and are not connected to the internet can still use the proxy option.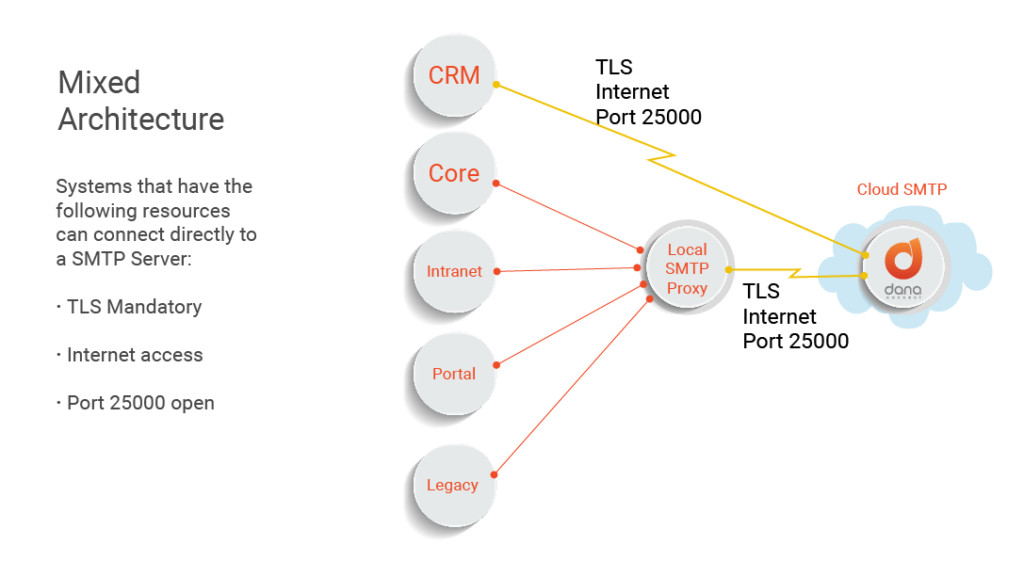 [/vc_column_inner][/vc_row_inner][/vc_column][/vc_row]