Discovering the best strategy for Single-channel, Multi-channel, Omni-channel or Cross-channel is essential to building a loyal customer base and paving the way for future relationships.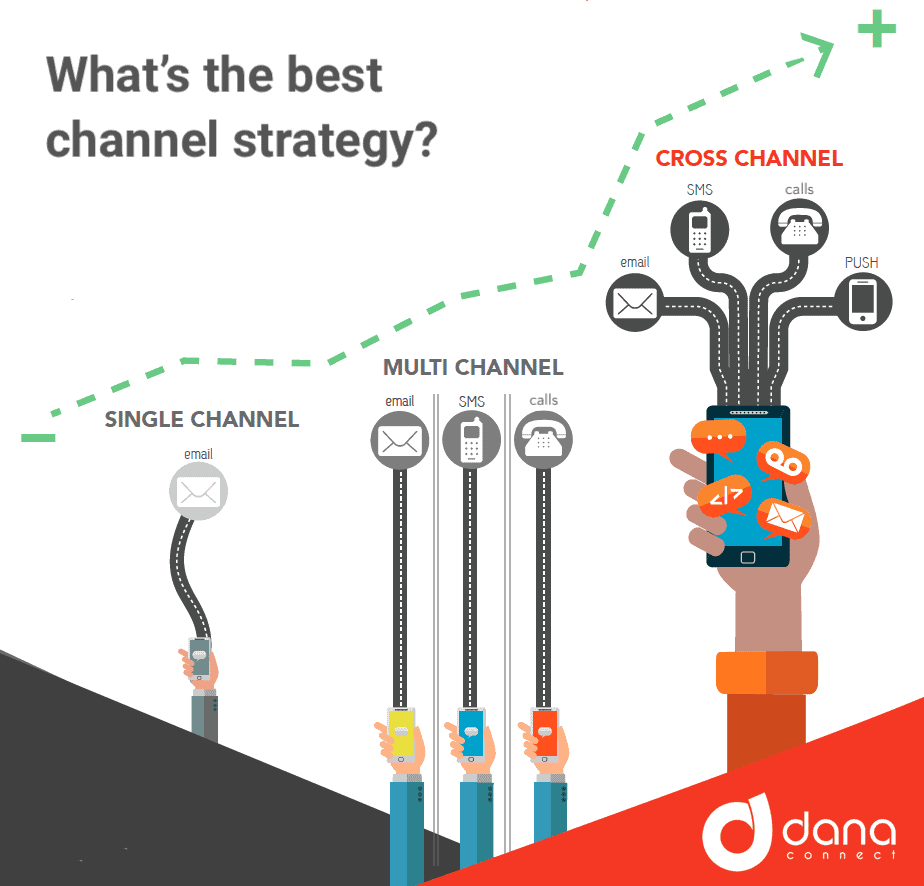 The pressure companies have to go digital and the importance social networks have taken in the interaction between businesses and their customers are some of the factors driving the evolution of digital communication.
As consumers today, we have access to greater amounts of market and product information, and we interact with brands at levels we never have before. 
As companies, in order to achieve business objectives, we have to understand where the communication touchpoints are with our customers so we can improve user experience and foster long-term relationships based on loyalty and retention.
What is the most effective channel strategy to communicate with customers?  Single-channel, Multi-channel, Omni-channel or Cross-channel ?
In order to design an effective strategy, each company must determine the channels through which their customers interact with their products. Channels of communication have evolved into concepts that marketers have divided into:
Single-channel
In this sense, it refers to the relationship between a customer and an organization that takes place through a single channel, such as email, text message, web page, or mobile app. Organizations have left behind this concept in today's hyper-connected world and with disruptive technologies that are becoming more prevalent.
Multi-channel
The multi-channel approach implies the use of multiple platforms for communicating with customers, such as online, on mobile devices, in a physical store, and through personalized emailing, without implying the design of a comprehensive strategy that unifies messages across multiple platforms.
Omni-channel
A omni-channel strategy is one that places the customer at the center of a continuous, comprehensive, and consistent communication experience, regardless of the channel they choose to interact. In this concept, the customer's experience is tailored to them, based on the different channels they use. Essentially, this term conceptualizes the customer as a new point of sale, to whom a single strategy is delivered through any of the channels they choose to engage with.
Cross-channel
Cross-channel refers to the experience of a customer who uses a combination of several different channels to carry out the same transaction or purchase of a product. Through cross-channel communication, for example, a customer may interact with a product through one channel but end up buying it through another. It provides the user with the power to manage their own experience, thereby generating new challenges for organizations to create seamless cross channel experiences.
The advantages of a cross-channel communication strategy
The terms multi channel and cross channel are frequently mistakenly interchanged in practice. Moreover, while multichannel means creating multiple points of contact with customers, the cross-channel strategy entails harmonizing those points of contact so that each conversation with the client can help the company make the customer journey smoother and seamless.
A cross-channel strategy, uses all available channels and touchpoints to connect and interact with customers in a seamless and flexible manner, rather than segregating into individual channels. That is called a silo channel structure.
It is common for businesses to have silos that work against their customers' interests and project wrong behaviours. It is common for a manager in one silo to become frustrated when trying to solve a customer complaint that is related to another silo because his priorities do not align with those of someone in another silo.
One great example of a silo structured process is when customers coming from another channel are asked to repeat processes or re-enter information. An integrated view of customer interactions would have made the customer experience more seamless. The result will be a siloed organizational structure that is company-centric or channel-centric, not letting the organization become customer-centric.
To break this silo structure, using cross-channel technologies can help you seamlessly pass from one channel to another, keeping the process moving and putting the right information in front of the right people all over your organization to meet customers' demands. 
What kind of platform should we use for cross channel communications?
The backbone of a cross-channel marketing strategy is having all the customer's data centralized. The use of a single platform to manage customer communication allows you to see all organizational data, empowering your departments by making them stakeholders. 
Additionally, using a single Customer Communication Management platform avoids redundancy in data, and systems that have various special functions. Sending invoices, advertising, delivering documents, processing signatures, storing documents, making satisfaction polls, all can be made with one single CCM platform, as well as collecting data from customers via webforms.
For organizations looking to deepen their relationships with customers, one single platform and cross-channel communication are the ways to unlock the potential of a 360-degree view of their business.